Set Up 1
The first step is to get ready to get the footage into the computer ("capturing") the footage. Depending on the type of camera you are using the steps will change, but for anything on tape the general process is the same.
1.) Plug the camera into the computer
2.) Set up a project for the format of the camera (DV, HDV, etc.)
3.) Log and Capture the clips (which means viewing the entire tape and marking the sections you want to capture) or just straight capture of the entire thing. I prefer the later method because it gets all my tape onto the hard drive without much thinking and I can put the tapes away. There are pros and cons to the methods, but this I have found is the easiest, especially since storage (hard drives) is not that expensive.
Final Cut supports many different formats, from DV to HDV and more. When starting a new project you should check to make sure the last settings you used will work for your new material. You can change the settings via Easy Set-up. and if you change them remember that it will not change any existing timelines.
In other words if you start a new project there is a default sequence that is added. That sequence will have the last settings that were used. From the Final Cut pull down select Easy Setup as shown below on the left. You will then see options as shown in the other images. For HDV select the Format HD and the HDV option in the lower pull down. This should work with most HDV cameras.
EASY SET UP FROM MENU (Note the short cut keys)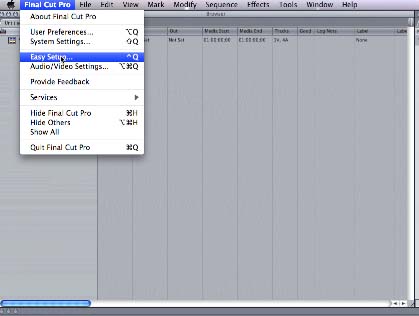 DROP DOWN SELECTIONS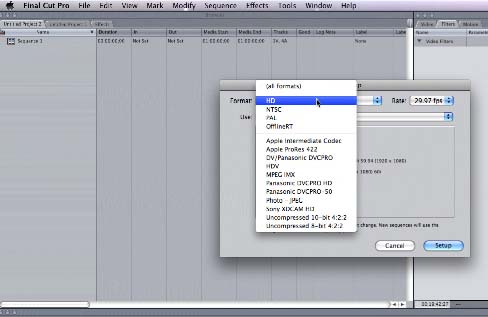 SET UP FOR HDV60i - PAL HDV is usually going to be 50i on your average HDV camera.